The Bake Shop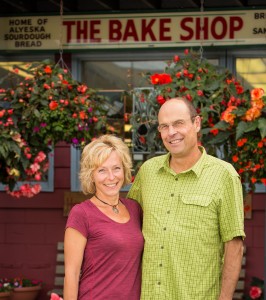 A touch of gourmet in the homemade.
Serving Alaska's best breakfast for every visitor in Girdwood, Alaska, we offer delicious, cozy homemade breakfasts. Sit down and let the smell of fresh baked bread, bacon and steaming coffee fill your nose as you pour golden maple syrup over a stack of hot sourdough pancakes. Try one of our famous sweet rolls or take home a loaf of our homemade Alyeska Sourdough Bread. Perhaps you visit for lunch to indulge in a bowl of our hearty bottomless soup and a sandwich, all made daily from the freshest ingredients.
Welcome to The Bake Shop experience!
Stefanie & Michael
 Gerne beantworte ich Ihre Fragen –                       Schicken Sie mir doch einfach eine Mail!
We do not accept credit cards. However, we will happily take your cash, travelers checks or local checks.
Spotlight
Our Sourdough Start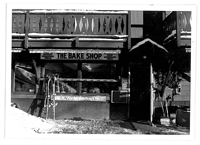 The foundation of every good bakery is its starter. Ours is a true sourdough, nursed and nurtured for almost 100 years, originally 'mothered' from a sourdough miner who mined for gold in our beautiful valley.
For over forty years we have cared for, fed, and doubled our starter every day, and like any loved thing, it has it's own unique temperament that tests and challenge our bakers daily.
It is a labor of love we are happy to share with you!