Winter Hours
7 AM – 7 PM Thursday – Monday
Closed Tues./Weds.
Summer Hours
7AM-7PM Daily
Convenient Location
The Bake Shop is located at the bottom of Bear Cub Quad/Chair 3 and adjacent to the Sitzmark. Ski right up to the front door and re-fuel with a hearty breakfast or filling lunch.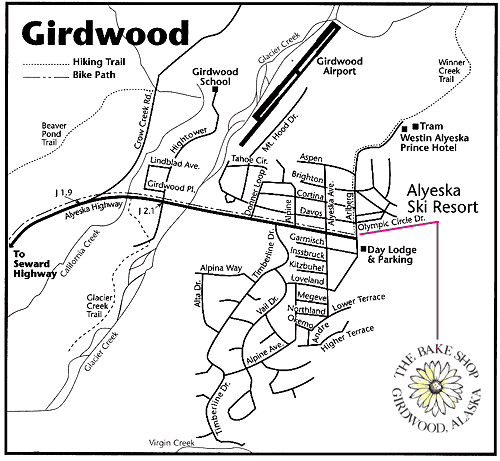 Driving Directions
Driving on the Seward Highway, 40 miles south of Anchorage, turn off onto Alyeska Highway. (Notice our blue directional highway sign on the Seward Hwy.) Follow Alyeska Highway for about 3 miles, until you come to the "T" at Alyeska Resort, where you are greeted by a large wooden sign. Turn left onto Arlberg and take the first right onto Olympic Mountain Loop. (Notice our blue directional sign on the big tree at the corner.)
Continue to drive to the very top of the gravel road, use the parking lot to your right and walk up to the front of the building where you will find The Bake Shop.
In Girdwood on Foot?
Use our local Glacier Valley Transit. It's easy! See Shuttle Schedule »