The Bake Shop features several great looking shirts for all ages and sizes, including onesies for our wee little ones. We also have a fantastic variety of colorful mugs to choose from. Those who purchase our mugs and return with it will enjoy free coffee refills!
Looking for a great gift idea? Make a basket to treat your family, friends or co-workers with some of our promotional items and add any of our delicious baked goods. Pick up a couple of our hand crafted pottery mugs, and then add either The Bake Shop sweet rolls, sourdough bread or rolls and top it off with a gift certificate for a breakfast, lunch or dinner!
The Bake Shop Logo Mug
Our handmade logo mugs are made with a custom stoneware clay body. The dense custom clay body makes our mugs superior to heat retention and durability, thus dishwasher and microwave safe. The glaze is lead free and food safe.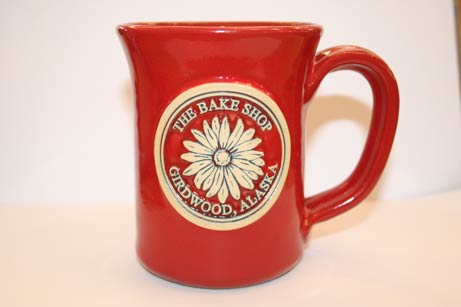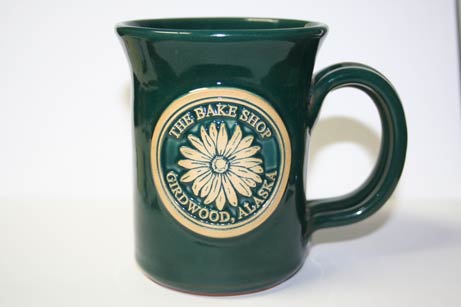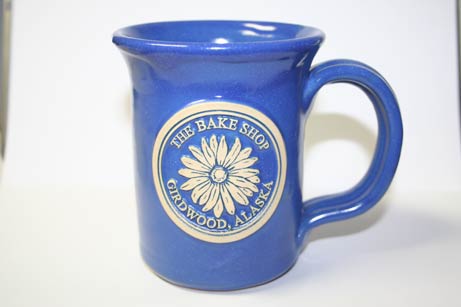 The Bake Shop Logo Wear
Our Tri-Blend and CVC Jersey shirts have been personally hand selected and strategically "labeled" to the delight of many of our customers. The Bake Shop CVC Jersey is a 4.3 oz. combination of 60% Combed Ringspun Cotton and 40% Polyester. It is known as the next generation of a cotton, polyester high-end jersey. The Bake Shop Tri-Blend Crew is a 4.3 oz. combination of 50% Polyester, 25% Cotton and 25% Rayon. It is fabric laundered, extremely soft and comfortable. It possesses great recovery and stretch which result in easy wear and care!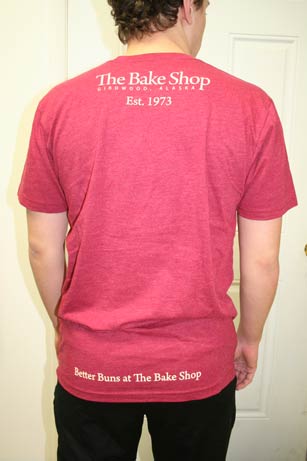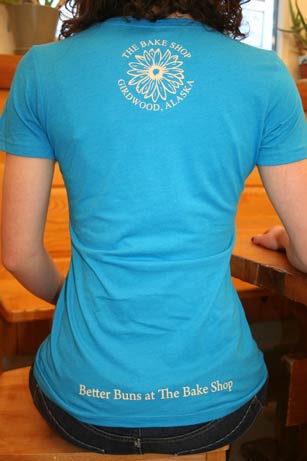 Gift Certificates
Give the Gift that Keeps on Giving
Purchase The Bake Shop Gift Certificates for the one you love:
in any amount,
with no expiration date
for food and beverage only
but you can't exchange for cash value
Your custom gift certificate can be mailed or picked up at The Bake Shop.
We appreciate a 24hr notice!
Email or phone in with details (include recipient name, address (if to be mailed), amount, and any loving message.